At the RECSA Secretariat, we recognize the urgent need to address the challenge of proliferation of illicit Small Arms and Light Weapons in the RECSA region. To tackle this complex issue, we adopt a collaborative approach, partnering with a diverse range of stakeholders to execute our mandate and contribute to peace, security, and sustainable development.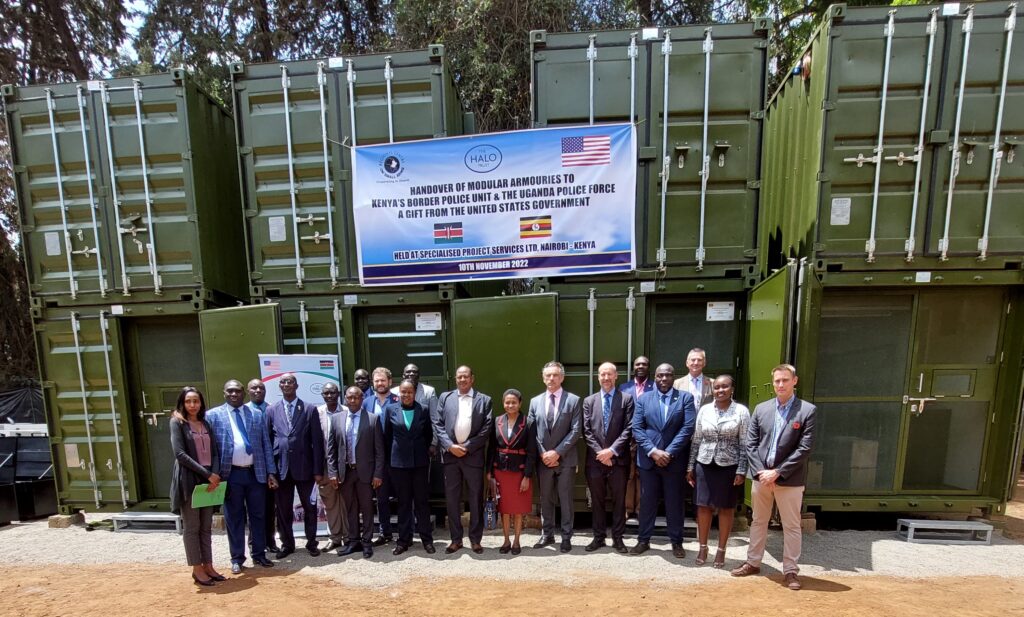 We work closely with our Member States, the United Nations agencies, the African Union-Political Affairs, Peace and Security Department, INTERPOL, other intergovernmental organizations such as ( IGAD, ICGLR,EASF) Regional Economic Communities (EAC), Civil Societies, Research and Academic institutions, and strategic development partners. This collaborative effort allows us to leverage the strengths and expertise of each stakeholder, and develop comprehensive strategies to tackle the problem of illicit SALW.
Our partnership with these stakeholders helps us to build the capacity of our Member States, coordinate the implementation of the Nairobi Protocol, and foster a culture of peace, security, and sustainable development in the region. By working together, we can make a significant impact in reducing the proliferation of illicit SALW and promoting peace and security in the RECSA region.
Our work is guided by four key pillars that underpin our efforts to address the challenge of the proliferation of illicit Small Arms and Light Weapons in the RECSA Sub-Region:
Coordinating SALW Management and Control Interventions
We support RECSA Member States to strengthen National Mechanisms for Small Arms Management and Control, by facilitating coordination and collaboration among Member States, and providing technical assistance and capacity building.
Conducting Adaptive Research, Public Education and Awareness
We build the research capacity of RECSA Secretariat so that it can become the premier source of information on SALW in the region. We also conduct public education and awareness campaigns to sensitize communities and key stakeholders about the dangers of illicit SALW and the importance of small arms management and control.
Institutional Strengthening and Development
We are committed to institutional strengthening and development, including the construction of RECSA permanent headquarters and establishment of RECSA Regional Training Centre. These initiatives will enable us to better serve our Member States and enhance our impact in the region.
Mainstreaming Gender and Special Interest Groups in SALW Programmes and Initiatives
We strive to enhance participation and involvement of women, girls, and other special interest groups in SALW interventions in the region. By mainstreaming gender and special interest groups, we can ensure that our efforts are inclusive and promote equality, peace, and security for all.
We currently work in 15 Member States in the Great Lakes Region, Horn of Africa and Bordering States. 9 of the 15 RECSA Member States are ranked as highly volatile states globally according to the Fragile States Index Annual Report 2022.
Areas of Cooperation and Collaboration include:
RECSA works with Member States through National Focal Point Coordinators or commissions on Small Arms and Light Weapons (SALW), providing access to its extensive network and expertise in the region.
Specialized Technical Expertise
RECSA has specialized technical expertise in implementing small arms control programs, making it a valuable partner in designing and implementing effective programs to combat the proliferation of SALW.
As an intergovernmental organization in Africa with the sole mandate to implement arms control and management programs, RECSA offers partners legitimacy and the assurance that programs are aligned with regional and international best practices.
RECSA has a proven track record of implementing SALW programs across the continent in partnership with regional, international, and non-governmental actors, earning it credibility and trust among stakeholders.
Capacity Building and Training
RECSA has a track record in capacity building and training for law enforcement agencies, equipping them with the necessary skills to effectively combat the proliferation of SALW.
RECSA has a comprehensive approach of enhancing regional and community security through conflict prevention, counter-terrorism, and disarmament, ensuring that its programs address multiple aspects of security.
Multi-Dimensional Strategy
RECSA's multi-dimensional strategy includes strengthening good governance and environmental protection for sustainable development, ensuring that programs have a positive impact beyond just security.
Partnering with RECSA is a valuable opportunity for organizations, development partners and States to make meaningful contributions to peace, security, and sustainable development in the Great Lakes Region, the Horn of Africa, and the Bordering States.